Micro Springs for Mini Applications 


Lee Spring offers micro springs in stock and ready to ship, plus custom made miniature springs to your specifications. We have hundreds of stock compression mini springs designs available from our large inventory ready for same day shipping and immediate delivery. Need a custom designed micro spring? Lee Spring can engineer and manufacture micro compression springs, micro extension springs, and micro torsion springs in small or large quantities, no minimums. Small springs are growing more and more popular as devices and gadgets grow smaller and smaller. Lee Spring's stock and custom miniature springs are used in a wide variety of industries such as:
Medical devices
Pharmaceutical delivery devices
Petro-chemical processes
Aerospace
Marine industries
Locks and security devices
Hardware
Firearms
Lighting and electrical controls
Communication devices
Testing and measurement
Automotive
Computer components
Precision Instruments
Electronic devices
Small pumps and small valves
Plus other equipment that require tiny miniature springs.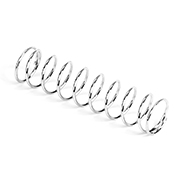 Micro Compression Spring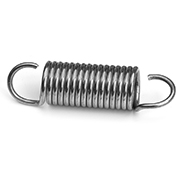 Micro Extension Spring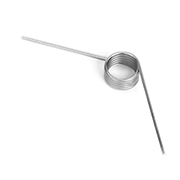 Micro Torsion Spring
Stock Micro Springs Available for Immediate Delivery
BANTAM™ Mini Compression Springs are Lee Spring's unique line of micro springs. The series is available in both imperial and metric sizes. The imperial selections are offered with work in hole diameters of 1/32", 3/64" and 1/16" and in a range of free lengths from .050" up to .625". The metric sizes selections are offered with work in hole diameters of 1mm, 1.5mm and 1.8mm and in a range of free lengths starting at 1mm up to 12mm. These stock micro springs are offered in wire sizes .0040", .0045", .0050" and .0055". This stock series of micro springs come with closed and squared end and are not ground. In order to meet and maximize the tiny spring performance needs of a potentially diverse range of applications, Lee Spring has selected Elgiloy® as the alloy for the Stock BANTAM™ Mini Springs series.
Lee Spring micro springs made of Elgiloy® are a Cobalt-Nickel alloy known for its high strength, e.g. 10% stronger than Type 316 Stainless Steel. These tiny springs offer superior corrosion resistance in most environments including acetic acid, sodium sulfite, ammonium chloride, sodium chloride, and citric acid. Designed to perform in a temperature range from -300° F up to 850° F. These stock mini springs are non-magnetic. To find a stock micro spring, select the BANTAM™ Series – Search Stock Micro Springs.
Lee Spring offers free standard ground shipping on stock spring orders, free plating, expert engineering assistance, live customer support service and much more.
Custom Micro Springs Made to Your Specification
Micro springs come in a variety of shapes, lengths and materials. Commonly used materials for tiny springs include wire, stainless steel types (302, 304, 316, 17-7), spring brass, and phosphor bronze. Lee Spring offers advanced capabilities and a wide variety of options for your micro spring manufacturing needs such as; advance quality control systems, regulatory expertise including RoHS, REACH and DFARS CAD assisted product design, in-house prototype production services and global supply chain network.
The size ranges that we can work with are:
Wire Diameter –0.002" [0.05 mm]
Coil Outside Diameter – down to 0.010" [0.25 mm]
Spring Index – down to 2.5 (Mean Coil Diameter divided by Wire Diameter) 

Simply request a micro spring quote today or contact a Lee Spring Engineer for design assistance or to answer any questions to help start your custom micro spring project. Lee Spring is ISO 2015:9001 certified, REACH and RoHS compliant and ITAR Registered.